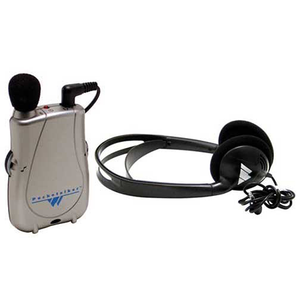 Williams Sound Pocketalker® Ultra
{{ price_max }} $382.00 Sale
Please note, this product may take additional time to ship. You will be notified once your product has shipped or is ready for pick up.
_____________________________________________________________
The Pocketalker® Ultra features a lightweight, ergonomic design for portability and ease of use. With finger tip adjustable volume control you can quickly adjust to your listening environment - whether your hearing loss is low frequency or high frequency sounds. This makes the Pocketalker® Ultra ideal for one-on-one or small group conversations and helps to amplify the volume on your television, stereo, or radio. 
Simply position the internal microphone near the preferred sound, plug in the headphones, and adjust the volume and tone to your preference using the dial. The listening accessories jack accommodates for a variety of earphone and headphone options. 

Please note: The Pocketalker® Ultra earphone jack is a mono jack, designed for mono earphones and headphones. If you use stereo earphones or headphones with the Pocketalker® Ultra, only one side of the headphones will work.
Accessories:
Personal amplifier
Plug-in (no cord) microphone
Folding headphone
AAA alkaline batteries (x2)
3.5mm male to 2.5mm female cable with mounting clips (12ft)
Lanyard