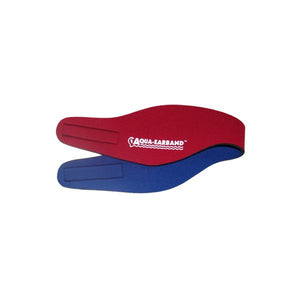 Aqua Earband Swim Bands
{{ price_max }} $20.00 Sale
The Aqua Earband protects ears when swimming, participating in water activities, bathing, or showering. They are made of thick high-quality neoprene rubber - the same material that wet suits are made from - and have an easy Velcro closure. The ear band will conform to the shape of the head and ears, creating a seal that offers ear protection. 
Reversible Colour Options: Each Aqua Earband is fully reversible, offering two unique colours in one ear band. Available in infant, child, and adult sizes. Colour may not be as shown.
Sizing: The Aqua Earband is available in three sizes approximated according to age (and remember these are neoprene swimming ear bands that stretch). The earband measurements are from end to end (in inches).
Infant (0-3 Years): 17-19.5 inches
Child (4-10 Years): 19.5-21.5 inches
Adult (10+ Years): 21.5-23.5 inches
The Aqua Earband is made in Canada.
Designed and Recommended By Ear, Nose & Throat Doctors
Does your child or baby have ear tubes or sensitive ears? Because it is non-invasive, the Aqua Earband is recommended by ear, nose, and throat doctors, audiologists, swim coaches, and pharmacists as a comfortable alternative to ear plugs for protection against ear infections or for ear tube surgery maladies.
The Aqua Earband can be used alone, or in addition to conventional ear plugs or ear molds for protection from any water source; worn over earplugs or ear molds, the Aqua Earband works to keep water out and earplugs firmly in. An adjustable Velcro fastener makes for easy, secure closure, and maximum comfort when fitting your Aqua Earband for a swim. The Aqua Earband is not impervious to the forces of pressure, and, therefore, is not recommended for diving. Ask your doctor for a recommendation as to how much protection you or your child needs. 
The Aqua Earband is different from traditional earplugs in many ways, but the most noteworthy: you can hear normally when the swimming ear band is in place! The band is easy to put on and adjust, and the snug, elastic neoprene always ensures a comfortable fit. 
Consider an Aqua Earband if you can't stand the pressure or feeling of traditional earplugs. This swimming ear band is the only comfortable way to protect your ears from water!