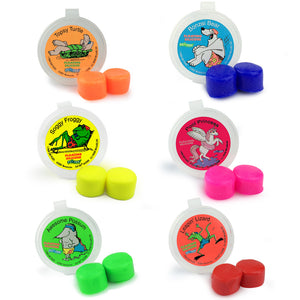 Putty Buddies®
{{ price_max }} $6.00 Sale
Keep water out of ears while showering or swimming with soft, mold-able silicone Floating Putty Buddies®.
Made with patented Flo-Tek® silicone formula, Putty Buddies mold into the bowl of the ear and float on water for easy finding if dropped or dislodged. Putty Buddies should be discarded after two weeks of use or if they become dirty or lose their tackiness.
Please Note: No earplug will be effective with deep underwater diving/swimming. Pressure from being further underwater will push water past the barrier of the earplugs.
Colour option will vary based on availability. Includes plastic carrying case.
How to use Putty Buddies® silicone ear plugs:
Do NOT force into ear canal.
Handle with clean, dry hands. Be sure any sunscreen, tanning oils, or skin moisturizers are removed from hands prior to handling.
Ear plugs should be placed over a clean and dry ear canal by an adult, never a child. 
Flatten plug with fingers and shape to cover outer ear until snugly fit.
Do NOT tear plugs at any time. Use the entire ear plug for each ear. If plug appears to separate or crack, please do not use or attempt to remold together. Discard and use a new pair.
Remove plugs by pressing up, under the backside of the ear. Then pull down on the ear lobe. Alternating these techniques several times will release the plug from over the ear canal for easy removal and storage.
Discard after 2 weeks of use or when plugs become dirty, start to crack/crumble, or lose their tackiness.
If any material remains in the ear canal after removal of the ear plug, do not attempt to remove this material yourself as you may push it deeper inside. Please see an Ear, Nose and Throat specialist (not a generalist) as soon as possible and they should be able to readily remove any material. 
Note that silicone is water repellant and will not likely be removed from skin or hair with water. If any silicone material gets stuck to skin or hair, use mineral oil or any natural oil-based product to remove the material.
Ear plugs are for use ONLY in water. If the user is out of the water for more than 5 minutes, please remove ear plugs, store and reapply (or use new pair) when re-entering the water.