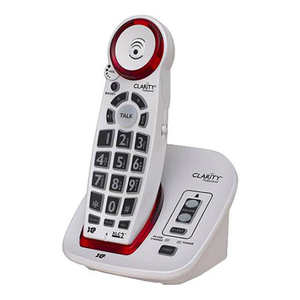 Clarity XLC3.4+ Extra Loud Cordless Speakerphone with Caller ID
{{ price_max }} $292.00 Sale
Please note, this product may take additional time to ship. You will be notified once your product has shipped or is ready for pick up.
_____________________________________________________________
The XLC3.4+ extra loud cordless speakerphone by Clarity is a simple and easy-to-use amplified phone that offers up to 50dB of Digital Clarity Power™ amplification. This system also features a large, illuminated talking dial pad with large buttons that speak the number that is pushed in either English or French.
This phone amplifies outgoing speech up to 15dB to allow others to hear you better. With a high contrast, large font Caller ID screen (English, Spanish, or French) and a talking Caller ID (English or French), plus a loud, clear speakerphone for hands-free conversations, this phone is an excellent choice for those living with mild to severe hearing loss.
Features:

Extra loud, flashing ringer with adjustable tones and voicemail indicator

Hearing aid compatible and TIA-1083 compliant
Direct connection to assistive listening devices or headset (2.5mm or 3.5mm)
Dual Power Battery Backup lets you make calls when the power is out (included)
One (1) year warranty
Accessories:
Base
Handset
Phone cords (1 long, 1 short)
Belt clip
Wall mount bracket
AC power adapter
User guide