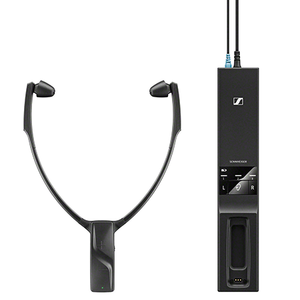 Sennheiser RS 5000 Wireless TV Earphone Headphones
{{ price_max }} $389.00 Sale
Please note, this product may take additional time to ship. You will be notified once your product has shipped or is ready for pick up.
_____________________________________________________________
Hear it all, enjoy it all.
Intensify your listening and add clarity and comfort to your TV sound with the RS 5000. With the RS 5000 your TV experience will be enhanced with the freedom to move within a range of 70m without the hindrance of cables. With up to 12 hours of playing time and an ultralight frame, you'll be able to enjoy extended TV sessions with ease. 
The RS 5000 allows you to tailor your listening experience to suit your needs. With customizable volume control and the ability to select from three different hearing profiles, you'll be able to indulge in superior sound quality. This device also offers a unique Speech Intelligibility function making speech easier to understand. Enhance your overall user experience by drastically reducing background noise which is part of the TV audio but may interfere with the spoken word.
The RS 5000 features a sleek and attractive base station that makes a stylish yet subtle addition to every home entertainment system. The base station also serves as a smart docking station that lets the headset/receiver lie in a compact and tidy horizontal position when charging.
Features:
Intuitive handling and fully compatibility with digital and analog TV outputs.

Automatic shutoff when not in use.

Low battery reminder.

Left and right volume control for balanced sound.
Accessories:
Headphone with built-in Li-Pol rechargeable battery
Docking station
1 pair of ear pads for small ears
Power supply unit with country adapters for EU, UK, US and AUS
TV Connection cable for 3,5mm headphone audio out
TV Optical cable for digital audio out
Instruction manual