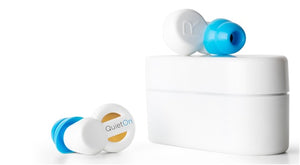 QuietOn Regular
{{ price_max }} $395.00 Sale
Please note, this product may take additional time to ship. You will be notified once your product has shipped or is ready for pick up.
_____________________________________________________________
Silence is Golden. Your partner in a noisy world.
QuietOn Q1 earplugs combine the advantages of in-ear passive earplugs with active noise cancelling, providing optimal noise reduction across the whole audible spectrum, especially effective at the low frequencies. This makes QuietOn Q1 ideal for airplane noise, traffic noise, music coming through the wall, environmental noise of industrial sites, and engine noise from motor vehicles.

CLASS-LEADING PERFORMANCE : Up to 40 dB active noise cancellation
LONG BATTERY LIFE : 50 hours on a single charge
EASE OF USE : No wires, no settings
DESIGNED FOR EVERYDAY USE : Comfortable to wear and easy to carry
Accessories:
2 rechargeable earplugs
3 pairs of different size replaceable tips
Carrying / charging case
Micro- USB cable
Please note: QuiteOn REQUIRES a compatible smartphone or tablet for initial set up. An app must be downloaded in order to properly set up the device. A USB charging cable is provided with the headphones, but no charging block is included.