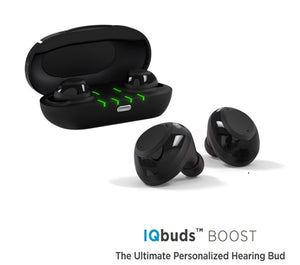 IQbuds Boost
{{ price_max }} $843.00 Sale
Please note, this product may take additional time to ship. You will be notified once your product has shipped or is ready for pick up.
_____________________________________________________________
Hearing buds personalized for you.

Introducing the newest innovative technology that learns and automatically adapts to your unique hearing profile. IQbuds™ BOOST with Ear ID™ is the ultimate personalized hearing bud that allows you to seamlessly connect to the world around you and transforms the way you hear. It's the perfect enhanced hearing device for when you want to control how you hear your world.
IQbuds BOOST - the most advanced assistive listening device on the market today.
By incorporating the ear buds with Ear ID, an App based audiometric hearing assessment that calibrates the IQbuds to your unique hearing profile, it enhances how you hear your world with your unique hearing needs in mind.
Every ear is different, and everyone hears differently.  Ear ID learns how you hear and automatically adjusts the IQbuds to your hearing profile using Nuheara's proprietary EarID technology. The app also provides a Focus feature to isolate and enhance sounds directly in front of the you, providing enhanced conversation clarity in noisy environments.

Speech in noise control (SINC™) finds the balance between world noise and speech and provides an almost infinite customization platform that is easily accessible in the app through location pre-sets for:
Workout
Street
Home
Office
Restaurant
Driving
Plane
The IQbuds BOOST Charging Case is compact and durable, protecting your hearing buds as they charge. Just place them in your bag and go. A quick 15-minute charge gives you up to 1 hour of music.
In less than 1.5 hours, the case reaches its full charge. It features LED battery indicators for both the hearing buds as well as the case, so you'll never be left guessing. The built-in battery provides up to 20 hours of extended listening time (5 hours battery life + 15 hours from charging case).
Features:
Ear ID™ – Self Fit, Self-Assess, Auto-Calibrate.
SINC™ – Speech in noise control
World On/World Off and World EQ
Tap-touch control with Siri and Google
Focus directional hearing
High Fidelity Audio
Hands-free calling
Customizable fit – 8 sizes and 2 shapes of silicone tips for a perfect fit. Also includes Comply™ foam tips
Benchmark Battery Performance:

Bluetooth Operation: 20 hours. 5 hours battery life + 15 hours from charging case
Assisted listening Operation: 32 hours. 8 hours battery life + 24 hours from charging case